Yo waddup, my peasants? It's ur gurl hunkered down and hoping for the best for the remainder of 2020.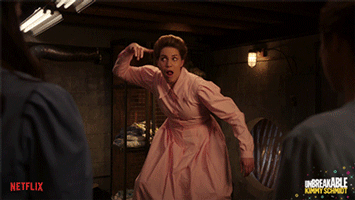 So to distract herself from the dumpster fire that is 2020, ya gurl has been busy making pretty things for herself in addition to men's uniforms because, frankly, sewing linen over and over again gets OLD. I've recently discovered the joys of Indian Banarasi silk brocades; they're not only GORGEOUS, but they bear a striking resemblance to brocades worn in the 18th century. Back in May, I bought this delightfully charming banarasi silk online… Okay, it was a silk blend, but it bears a striking resemblance to some of the fabulous brocades of the mid to late 18th century
it had a beautiful floral motif that reminded me of brocades from the 1750s and 60s and I easily could have made an exotic rococo francaise from it… I COULD have, until I saw this gown from 1780.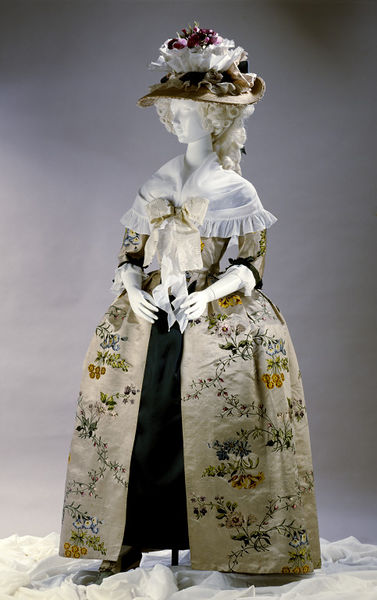 I've stated in many a previous blog post that fabric is often recycled, so what better way to show that off than by making a late 1770s/early 1780s gown with fabric that looked like it was made in the 1760s? For the construction, I used parts of the American Duchess Italian gown tutorial mixed in with some other pattern pieces. The fabric itself, because it wasn't real silk, was a pain in the butt to work with and as I melted part of it with the iron, I vowed to never work with artificial silk ever again no matter what the cost. I kid you not, I melted part of the front when I was ironing it! Fortunately, I'm a master of piecing patterns so it's almost impossible to tell the difference!
For future gowns I'm not going to mess with the shape of the front bodice because I'm a dum-dum and forget that the bodice changes once everything is hemmed and sleeves are added. I wasn't too fond with how the bodice shape turned out when it was finished, but I'm taking it as a learning experience.
I used the American Duchess pattern for the back and while it was nice, I feel like I could do a different shape in the future. The fabric was NOT fun to work with because of how it just wouldn't hold its shape once it was ironed… NEVER WORK WITH ARTIFICIAL SILK, it's not fun!
I had to fiddle with the back several times before I finally got it symmetrical, but I got there!
Overall, I was satisfied enough with the gown to wear it. It wasn't perfect, but it was mine and I had to keep reminding myself that even back then, nothing was completely perfect. That's something I want you, peasants, to keep in mind when you're making something. Even if it's not perfect, take pride in all that you do because YOU made it! Take a look at this beautiful damask anglaise from the 1760s… Notice it's a little uneven. Still, it's beautiful enough to be in the LACMA!
I wore this gown to a virtual concert Erik and I hosted back in September and absolutely rocked it!
And just in case if you're wondering, Snowbird absolutely stole the show because she's twice the diva I am!
Taking all the lessons I learned making this gown, I took the plunge into REAL banarasi silk!! Erik and I made the trip to Iselin, NJ to a real silk sari shop and lost our minds! The silk selection in this phenomenal little shop had my jaw on the floor, so many were accurate to the period! I told myself I was going to try and steer clear of bright, obnoxious colors and go for something more dainty and pastel because nearly all of my wardrobe is bright and obnoxious, but then I saw this silk…
I am complete trash for going bright and obnoxious again.
You know I had to have it!!! The color isn't as common as the pretty pastels, but keep in mind colors fade after 200 years and there are examples of Golden Trash gold!
For the pleats, I made a nod to the Dutch population in the northern New Jersey/NY area by using cartridge pleats. From what I've read in this terrific blog post, cartridge pleating in 18th century gowns is a super Dutch thing to do. In the future, I'll be sticking to the usual knife pleats, but I thought this was a neat detail to add, plus the technique was fun! Because this fabric frayed like crazy, I backed the skirt panels with a strip of linen where I would be pleating to give it more body and to keep it from further fraying.
For those new or those who say "I can't sew," I'm here to tell you that it's MORE than okay to make mistakes and see sewing as a learning process. I've been sewing since 2013 and I'm still learning! Notice more piecing in the previous photo, I'm here to tell you it's a normal part of the sewing process and they didn't always match up the pattern pieces then either! Imperfections are part of the game, no matter how much of an "expert" you are, so cut yourself some slack.
The more I worked with this gown, the more I fell in love with it. It just felt right, the fabric was an absolute dream to work with (minus the fact it left gold and pink fibers everywhere!). And in spite of the fact I sewed both sleeves on wrong and had to redo them (oof), the gown came together in less than two weeks alongside items for clients.
It was at last complete when I added a tucker and a bigass bow
Because the fabric is rather delicate, I opted to have the gown lace up on the inside then close with tinier pins which didn't have any strain on them.
I managed to get this gown finished just in time for Halloween, so Erik took me to Ringwood Manor for a few photos. I was too lazy to do my hair, so be warned!
So that's what I've been up to as of late, I hope all you peasants are surviving 2020 the best way you can. I'll leave you with something to brighten your spirits, here's Snowbird in her Halloween costume!